If your dental practice has a website, statistics show that conversions occur more often on dental websites that have blogs rather than dental websites without blogs
Most pages of a dental website give important information to patients about the policies and procedures that are found in your practice. Many dental practices encourage patients to download new patient forms or update their registration using forms that are easily downloaded.
Information pages are also known as "evergreen" pages as the information changes infrequently. So, how do you engage patients and have them want to visit your site on a regular basis? Your practice blog is the best tool to keep you in existing patient's minds and encourage new patients to make an appointment.
FAQs About Dental Blogging
How to Start a Dental Site Blog
Adding a dental blog to your dental website is not hard to do. The challenge is to have enough great content for publishing on a regular basis. How often you make blog entries depends on how you find content. Depending on yourself and staff to write good relevant content begins with great excitement and everyone wanting to pitch in – but in just a short while, no one has an idea for a topic. Adding a blog a week might make sense for you, and it is all right to occasionally miss a week. But when you and the rest of the staff run out of things to say the following are some suggestions to keep you on the path to blogging success.
Keep the Information Relevant
Most dental blogs try hard to come up with relevant posts and focus on oral health-related topics such as:
Trends in Oral Hygiene
Foods That Promote Dental Health
Research, studies, clinical trials and current news for patients about advancing dental technology
Select different dental procedures to discuss throughout the year
Common or chronic dental problems including sleep apnea,

bruxism

, chipped or missing teeth
Exploit Community Service
If your dental practice is involved in community activities your website blog is a great place to promote the cause and how your practice is involved. You may sponsor a sports team, if you do, mention in your blog how your team is doing and highlight players – this will be retweeted to scores of potential patients by proud parents and team members. If members of your office team are active in any charities give them a shout out and feature their volunteer work in a blog. Make sure you embed images and videos to retain visitors longer and encourage them to click through.
Talk About The Latest Dental Technology and How it Benefits Patients
Most dental practices invest a great deal of time and an equal or greater amount of money into new dental technology. If you have acquired the latest Henson 433 brag about it on your website blog. Explain what it is and what it does and make sure your post includes pictures. You might want to ask a Henson marketing person to write a guest blog about the new equipment.
Articles on your new technology can help sell your identity and polish your online presence.

Write in an Engaging Way
Clipping and crediting a journal article is not very engaging to a patient. A blog post called "Germs Promote Oral Disease" is far less engaging than a title such as "Billions of Bacteria Are Swarming in Your Mouth – We Offer Suggestions to Combat This Problem." Certainly, the second heading is more engaging.
Use Social Media to Promote Your Blog
Dental practices should participate in promoting blogs through social media. This means setting up business pages on Facebook, LinkedIn, and Google+. Other social media outlets include Pinterest and Google AdWords, which is paid advertising.
When content is great, readers tend to forward the post to friends and relatives who then repost it on their social media pages and so on. Blog posts that use local geographic markers in their content tend to convert better than those without local geographic markers. So, if your dental practice is in downtown St. Paul, let people know. Zero in more by telling readers ,"we are in downtown St.Paul across the street from City Hall." While this info may not help much in a national search for dentists, it sure helps get you closer to the number one spot on the local search results page for the city or town you practice in.
Connect with patients through social media.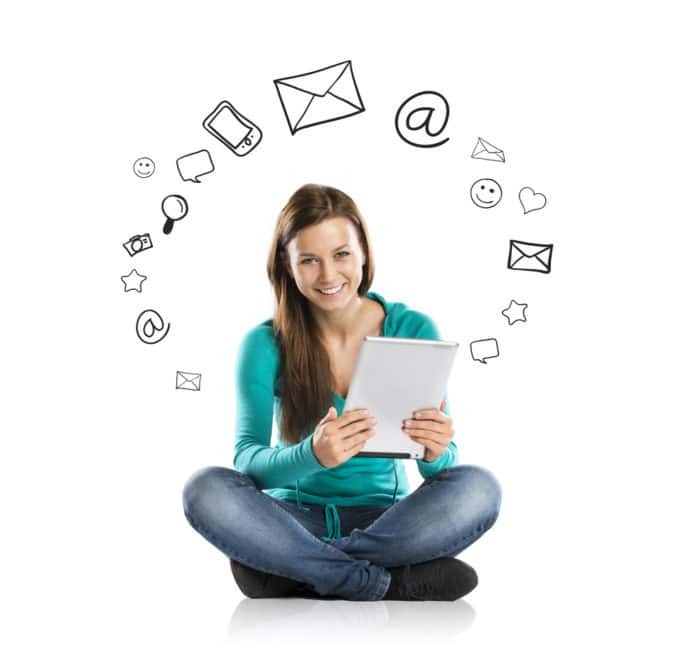 Social media marketing is highly targeted, and 70% of consumers admit to checking with friends and relatives first before making an appointment with a new dentist. Social media exponentially expands your blog's reach.
A Blog Is a Critical Feature for Dental Web Marketing
The algorithm used by Google for searching favors dental websites that have fresh content and are updated regularly. An often overlooked blog topic is using an actual video of a procedure being performed such as the first fitting of Invisalign brand braces.
If the patient is willing, you can follow him or her through the entire process and build a video library from the videos you use on your blog. Make sure that you get the proper patient authorizations so you don't run afoul of HIPAA privacy regulations. Consider a professional videographer for this task.
Keeping Your Blog Current
There is nothing worse than visiting a professional site where the last blog was six months ago. It doesn't show patients that you follow through on things. Of course, content automation services and ghostwriters can help with writing your weekly post and automating the posting process. Many companies exist that can provide these services at affordable cost. The highly effective use of blogs to keep people on your site longer and likely to convert to a request for more information or an appointment is much higher than websites without a blog.
Your blog will inform and educate your existing and prospective patients in an engaging way. Managing blog entries on just a weekly basis is a time sink, but, content writers thrive on the consistent work. Consider using an Internet marketing company that specializes in online dental marketing for help.